Mazda 6 Owners Manual: Inspecting Engine Oil Level
1. Be sure the vehicle is on a level surface.
2. Warm up the engine to normal operating temperature.
3. Turn it off and wait at least 5 minutes for the oil to return to the oil pan.
4. Pull out the dipstick, wipe it clean, and reinsert it fully.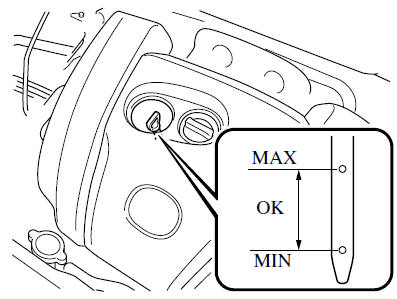 5. Pull it out again and examine the level.
The level is normal if it is between the MIN and MAX marks.
If it is near or below MIN, add enough oil to bring the level to MAX.
CAUTION
Do not overfill the engine oil. This may cause engine damage.
6. Make sure the O-ring on the dipstick is positioned properly before reinserting the dipstick.
7. Reinsert the dipstick fully.