Mazda 6 Service Manual: Dashboard removal/installation
1. Disconnect the negative battery cable.
2. Remove the glove compartment.
3. Remove the console.
4. Remove the meter hood.
5. Remove the instrument cluster.
6. Remove the column cover.
7. Remove the lower panel.
8. Remove the steering shaft.
9. Remove the A-pillar trims.
10. Remove the front scuff plates.
11. Remove the front side trims.
12. Remove the side panels.
13. For vehicles equipped with the wire-type climate control unit, disconnect the wires for the front A/C unit. (See to CLIMATE CONTROL UNIT REMOVAL.) (See to CLIMATE CONTROL UNIT INSTALLATION.)
14. Disconnect the dashboard harness connectors.
15. Remove the bolts.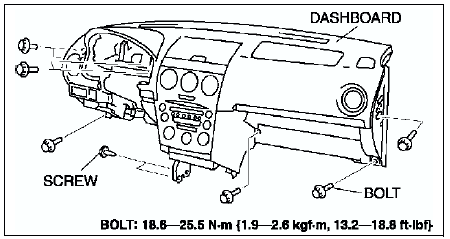 Warning
Removing the dashboard without supporting it can be dangerous. The dashboard may fall and injure you. Always perform these procedures together with at least another person.
16. Pull out the support pins from the body to remove the dashboard.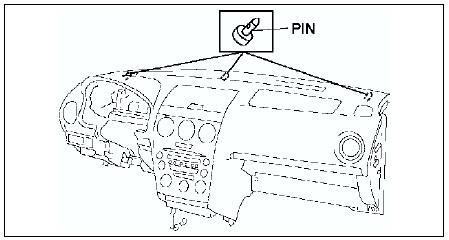 17. Take the dashboard off from the driver-side door opening.
18. Install in the reverse order of removal.