Mazda 6 Owners Manual: Information on Temporary Tires
Please refer to the sample below.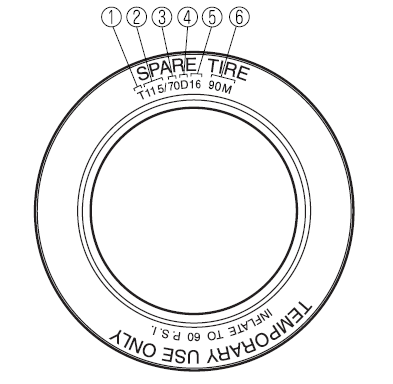 1. Temporary tires
2. Nominal width of tire in millimeters
3. Ratio of height to width (aspect ratio)
4. Diagonal
5. Rim diameter code
6. Load index & speed symbol
T115/70D16 90M is an example of a tire size and load index rating. Here is an explanation of the various components of that tire size and load index rating. Note that the tire size and load index rating may be different from the example.
T
Indicates a tire that may be installed on cars, SUVs, minivans and light trucks as designated by the Tire and Rim Association (T&RA).
115
"115" is the nominal width of the tire in millimeters. This three-digit number gives the width in millimeters of the tire from sidewall edge to sidewall edge. In general, the larger the number, the wider the tire.
70
"70" is the aspect ratio. This two-digit number indicates the tire's ratio of height to width.
D
"D" is the tire construction symbol. D indicates "diagonal ply construction".
16
"16" is the wheel rim diameter in inches.
90
"90" is the Load Index. This two-or three-digit number indicates how much weight each tire can support.
M
"M" is the speed rating. The speed rating denotes the maximum speed for which the use of the tire is rated.