Mazda 6 Service Manual: Rear side seat belt removal/installation
Caution
The ELR has a spring that will unwind if the retractor's cover is removed. The spring cannot be rewound by hand. If this occurs, the ELR will not work properly. Therefore, do not disassemble the retractor.
4SD
1. Fold the rear seat back.
2. Remove the rear side seats.
3. Remove the rear package trim.
4. Remove the bolts.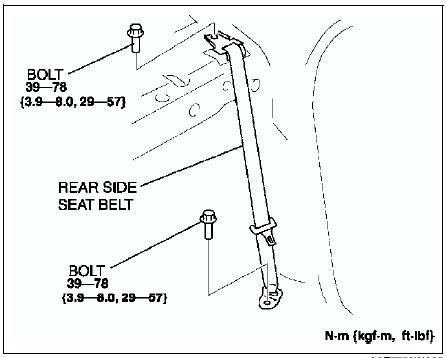 5. Remove the rear seat belt.
6. Install in the reverse order of removal.
5HB
Note
Rear side seat belts are embedded in the rear seat back. See rear seat disassembly/assembly, remove/install the rear center seat belt.