Mazda 6 Owners Manual: Schedule 1
U.S.A. and Puerto Rico residents - Engine oil flexible maintenance interval
Use when the maintenance monitor for "Oil Change" is set to "Flexible". For details, see maintenance monitor.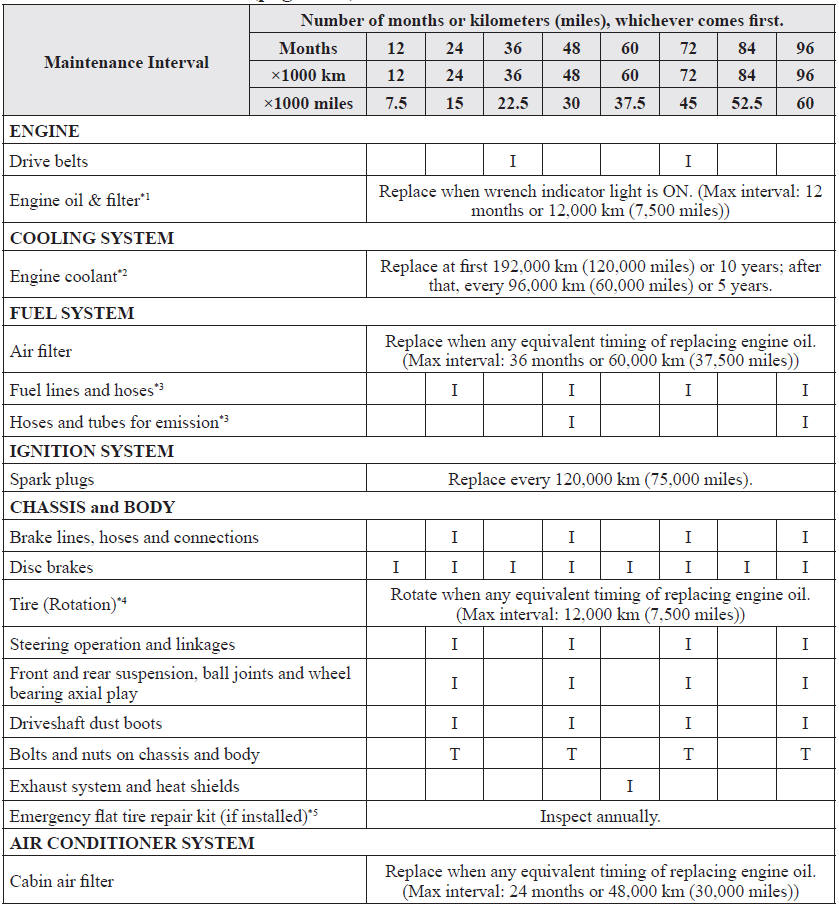 Chart symbols:
I
: Inspect: Inspect and clean, repair, adjust, fill up, or replace if necessary.
T
: Tighten
Remarks:
*1 The engine oil and filter must be changed at least once a year or within 12,000 km (7,500 miles) since last engine oil and filter change. The system must be reset whenever replacing the engine oil regardless of the message/wrench indicator light display.
*2 Use of FL-22 is recommended when replacing engine coolant. Using engine coolant other than FL-22 may cause serious damage to the engine and cooling system.
*3 According to state/provincial and federal regulations, failure to perform maintenance on these items will not void your emissions warranties. However, Mazda recommends that all maintenance services be performed at the recommended time or mileage/kilometer period to ensure long-term reliability.
*4 The Tire Pressure Monitoring System (TPMS) initialization must be performed so that the system operates normally (if equipped).
*5 Check the tire repair fluid expiration date every year when performing the periodic maintenance. Replace the tire repair fluid bottle with new one before the expiration date.