Mazda 6 Service Manual: Sunroof unit removal/installation
1. Disconnect the negative battery cable.
2. Remove the headliner.
3. Remove the glass panel.
4. Disconnect the front and rear drain hose from the sunroof frame.
5. Remove the bolt A, and then remove the rear set bracket.
6. Remove the bolt B and nuts, and then remove the sunroof unit.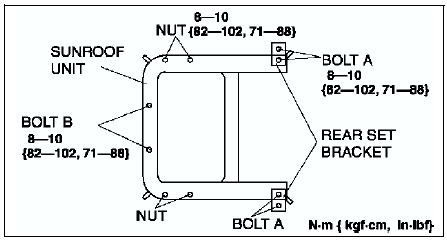 7. Install in the reverse order of removal.
8. Adjust the glass panel. (See GLASS PANEL ADJUSTMENT.)