Mazda 6 Service Manual: Troubleshooting procedure
Basic flow of troubleshooting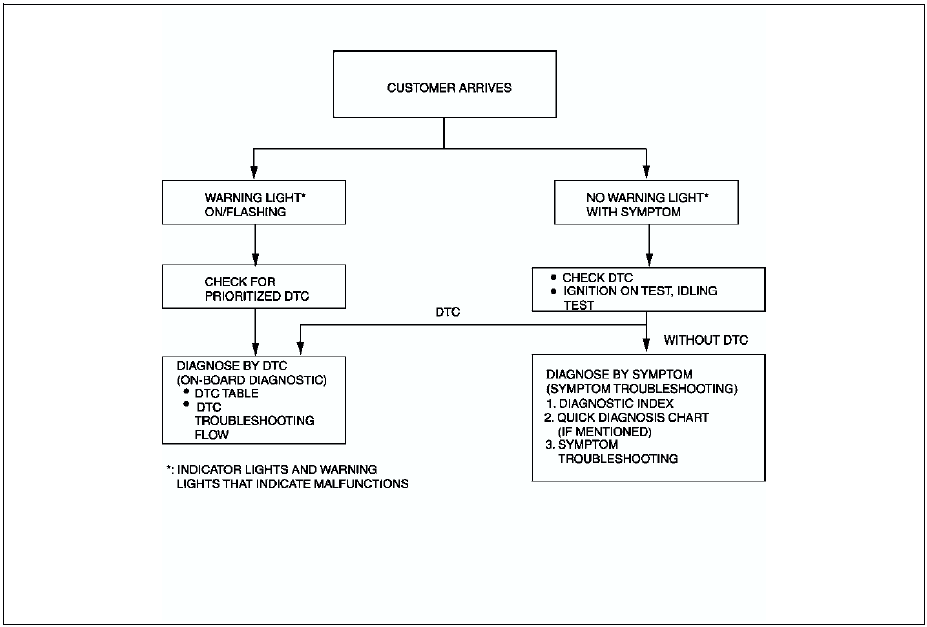 DTC troubleshooting flow (on-board diagnostic)
Diagnostic trouble codes (DTCs) are important hints for repairing malfunctions that are difficult to simulate.
Perform the specific DTC diagnostic inspection to quickly and accurately diagnose the malfunction.
The on-board diagnostic function is used during inspection. When a DTC is shown specifying the cause of a malfunction, continue the diagnostic inspection according to the items indicated by the on-board diagnostic function.
Diagnostic index
The diagnostic index lists the symptoms of specific malfunctions. Select the symptoms related or most closely relating to the malfunction.
Quick diagnosis chart (If mentioned)
The quick diagnosis chart lists diagnosis and inspection procedures to be performed specifically relating to the cause of the malfunction.
Symptom troubleshooting
Symptom troubleshooting quickly determines the location of the malfunction according to symptom type.
Procedures for Use
Using the basic inspection (section K)
Perform the basic inspection procedure before symptom troubleshooting.
Perform each step in the order shown.
The reference column lists the location of the detailed procedure for each basic inspection.
Although inspections and adjustments are performed according to the reference column procedures, if the cause of the malfunction is discovered during basic inspection, continue the procedures as indicated in the remarks column.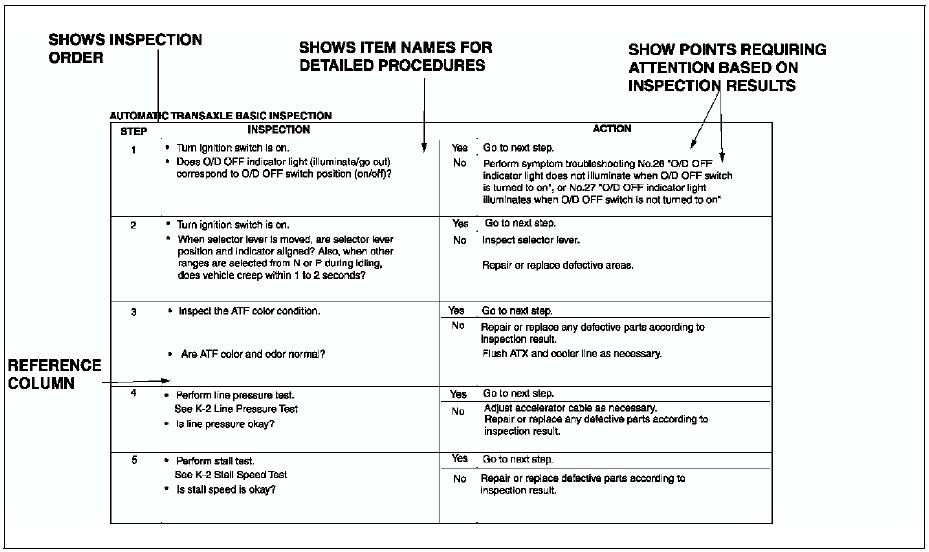 Using the DTC troubleshooting flow
DTC troubleshooting flow shows diagnostic procedures, inspection methods, and proper action to take for each DTC.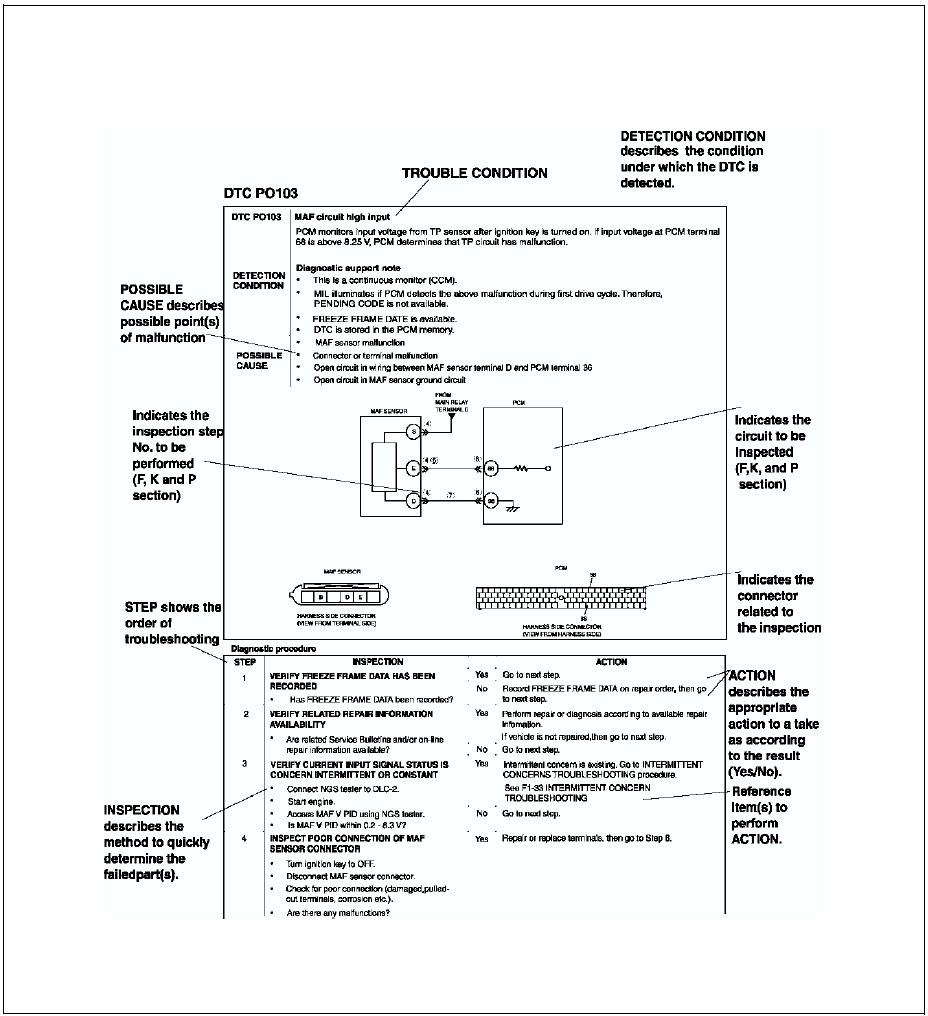 Using the diagnosis index
The symptoms of the malfunctions are listed in the diagnostic index for symptom troubleshooting.
The exact malfunction symptoms can be selected by following the index.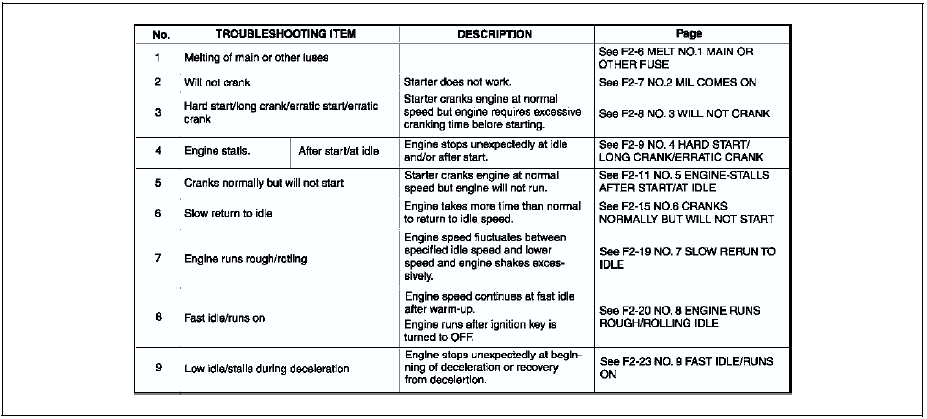 Using the quick diagnosis chart
The chart lists the relation between the symptom and the cause of the malfunction.
The chart is effective in quickly narrowing down the relation between symptom and cause of the malfunction. It also specifies the area of the common cause when multiple malfunction symptoms occur.
The appropriate diagnostic inspection relating to malfunction cause as specified by the symptoms can be selected by looking down the diagnostic inspection column of the chart.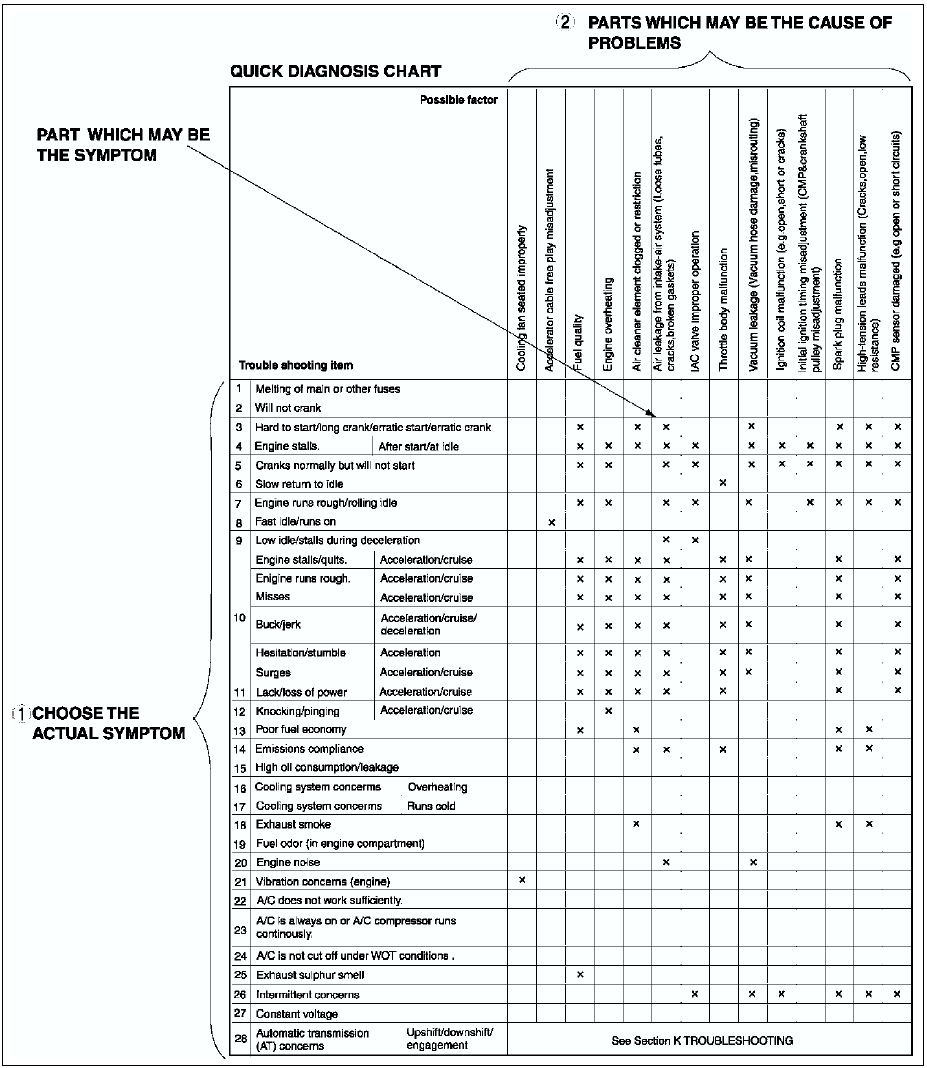 Using the symptom troubleshooting
Symptom troubleshooting shows diagnostic procedures, inspection methods, and proper action to take for each trouble symptom.