Mazda 6 Service Manual: Expansion valve removal/installation
1. Disconnect the negative battery cable.
2. Discharge the refrigerant from the system. (See RECOVERY.) (See CHARGING.)
Caution
If moisture or foreign material enters the refrigeration cycle, cooling ability will be lowered and abnormal noise will occur. Always immediately plug open fittings after removing any refrigeration cycle parts to keep moisture or foreign material out of the cycle.
3. Disconnect the cooler hose (Lo) (L.H.D) or cooler pipe No.4 (R.H.D.) and cooler pipe No.3. (See REFRIGERANT LINES REMOVAL/INSTALLATION.)
4. Remove the dashboard. (See DASHBOARD REMOVAL/INSTALLATION.)
5. Remove the duct (1).
6. Remove the air mix actuator. (Full-auto air conditioner)
7. Remove the screws and cover.
8. Remove the one plate (L.H.D.) or two plates (R.H.D.).
9. Remove the bolts and shift the outlet pipe. Do not allow compressor oil to spill.
10. Remove the expansion valve. Do not allow compressor oil to spill.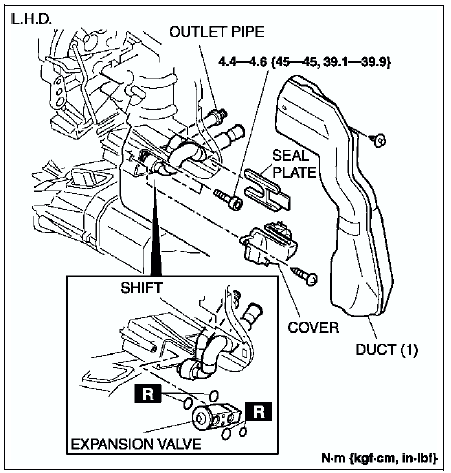 11. Install in the reverse order of removal.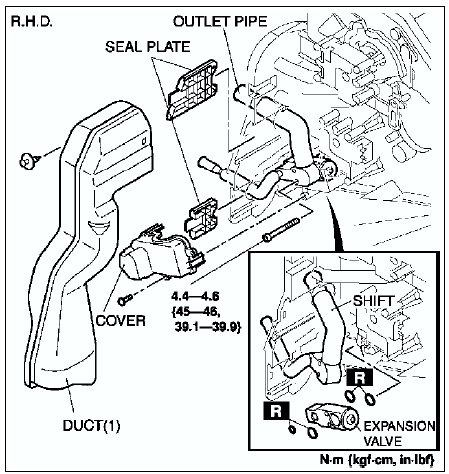 12. Perform the refrigerant system performance test. (See REFRIGERANT SYSTEM PERFORMANCE TEST.)