Mazda 6 Service Manual: Front combination light removal/installation
Caution
Incorrect servicing of the discharge headlights could result in electrical shock. Before servicing the discharge headlights, always refer to the Discharge headlight service warnings. (See DISCHARGE HEADLIGHT SERVICE WARNINGS)
Note
When the ignition switch is turned to ON, it is normal to hear the headlight leveling actuator operating for a few second, as it verifies headlight auto leveling system operating condition.
1. Disconnect the negative battery cable.
2. Remove the front bumper. (See FRONT BUMPER REMOVAL/INSTALLATION)
3. Remove in the order indicated in the table.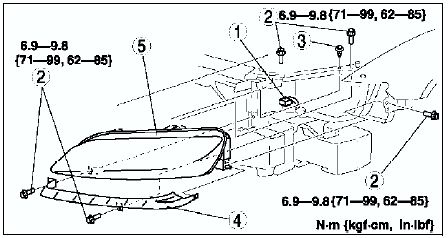 4. Install in the reverse order of removal.
5. Adjust the headlight aiming. (See HEADLIGHT AIMING.)