Mazda 6 Owners Manual: Heated Steering Wheel (Some models)
The grips on the left and right of the steering wheel can be warmed up.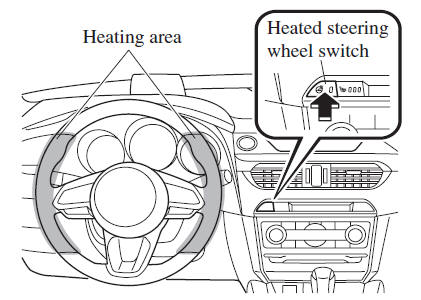 The ignition must be switched ON.
Press the switch to turn on the heated steering wheel. The heated steering wheel operates for about 30 minutes and then turns off automatically.
The indicator light illuminates when the heater is operating.
To turn off the heated steering wheel before the 30 minutes has elapsed, press the switch again.
CAUTION
The following types of persons should be careful not to touch the steering wheel. Otherwise, it could cause a lowtemperature burn.
Infants, small children, elderly people, and physically challenged people
People with delicate skin
People who are excessively fatigued
People who are intoxicated
People who have taken sleepinducing medicine such as sleeping pills or cold medicine