Mazda 6 Service Manual: Windshield wiper motor removal/installation
1. Disconnect the negative battery cable.
2. Remove the windshield wiper arm and blade. (See WINDSHIELD WIPER ARM AND BLADE REMOVAL/INSTALLATION.)
3. Remove the cowl grille. (See COWL GRILLE REMOVAL/INSTALLATION.)
4. Remove in the order indicated in the table.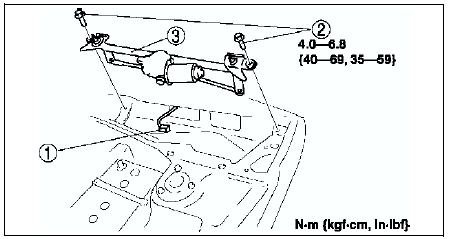 5. Install in the reverse order of removal.
6. Adjust the windshield wiper arm and blade. (See WINDSHIELD WIPER ARM AND BLADE ADJUSTMENT.)