Mazda 6 Service Manual: Center panel module removal/installation
1. Cancel the anti-theft operation. (with anti-theft system) (See ANTI-THEFT SYSTEM.)
2. Disconnect the negative battery cable.
3. Remove the glove compartment.
4. Remove the rear console.
5. Remove in the order indicated in the table.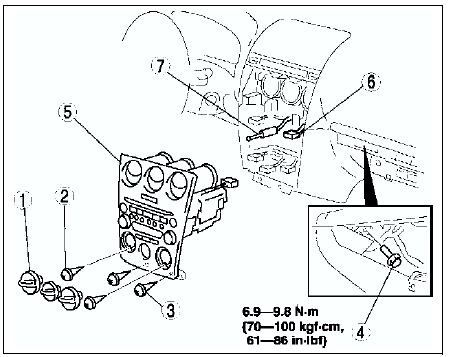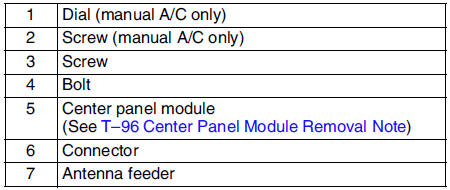 6. Install in the reverse order of removal.
Caution
Make certain that the wiring harness and antenna feeder are not caught between the unit and dashboard. If the harness or the antenna feeder is caught between the unit and dashboard, it may cause trouble or malfunctions.
7. Operate the anti-theft system by setting the code number. (with anti-theft system) (See ANTI-THEFT SYSTEM.)
Center Panel Module Removal Note
Pull the center panel module toward you, then disengage clip A from the dashboard, and remove the center panel module.