Mazda 6 Service Manual: Wheel hub bolt replacement
1. Remove the hub bolt using the SSTs
.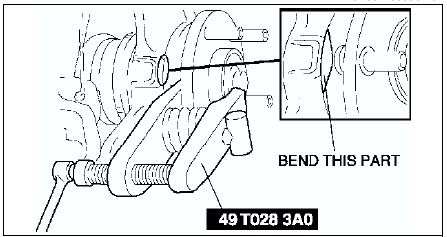 Note
If the dust cover interferes with the wheel hub bolt and the wheel hub bolt cannot be removed, tap the part shown in the figure with a chisel lightly and bend the processing point back to the steering knuckle side.
2. Install the hub bolt into the wheel hub and install a washer and hub nut on the hub bolt.
3. Tighten the hub nut while holding the wheel hub using a brass bar.