Mazda 6 Service Manual: Neutral switch inspection
Note
Perform the following inspection only when directed.
Continuity Inspection
1. Disconnect the negative battery cable.
2. Remove the neutral switch.J5 MANUAL TRANSAXLE REMOVAL/INSTALLATION.)
3. Inspect for continuity between the neutral switch terminals using an ohmmeter.
If the neutral switch is okay, but CPP/PNP PID value is out of specification, carry out of the Circuit Open/Short Inspection.
If not as specified, replace the neutral switch.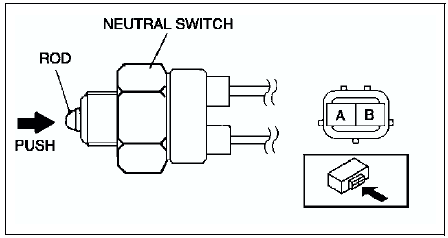 Specification

Circuit Open/Short Inspection
1. Disconnect the PCM connector. (See PCM REMOVAL/INSTALLATION.)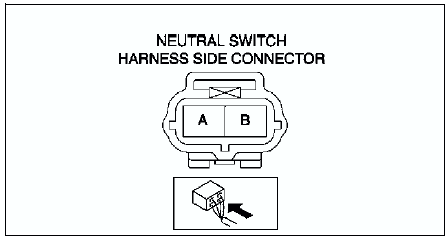 2. Inspect the following harness for open or short. (Continuity check)
Open circuit
Neutral switch terminal B (harness-side) and PCM terminal 1W (harness-side)
Neutral switch terminal A (harness-side) and body GND
Short circuit
Neutral switch terminal B (harness-side) and body GND