Mazda 6 Service Manual: Clock spring removal/installation
1. Disconnect the negative battery cable.
2. Remove the driver-side air bag module. (See DRIVER-SIDE AIR BAG MODULE REMOVAL/INSTALLATION.)
3. Remove the steering wheel. (See STEERING WHEEL AND COLUMN REMOVAL/INSTALLATION.)
4. Remove the column cover.
5. Remove in the order indicated in the table.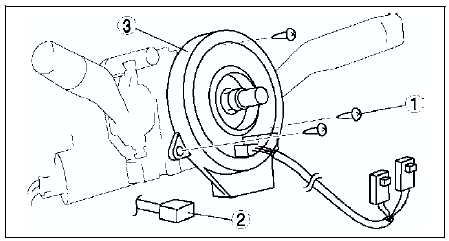 6. Install in the reverse order of removal.
7. Verify that the air bag system warning light illuminates for approximately 6 seconds
and then goes off.
If the air bag system warning light does not operate in the manner described above, there are malfunctions in the system. Inspect the system using the on-board diagnostic.
Clock Spring Installation Note
Caution
If the clock spring is not adjusted, the spring wire in the clock spring will break due to overtension when the steering wheel is turned. Always adjust the clock spring after installing it.
Adjust the clock spring after installing it. (See CLOCK SPRING ADJUSTMENT.)